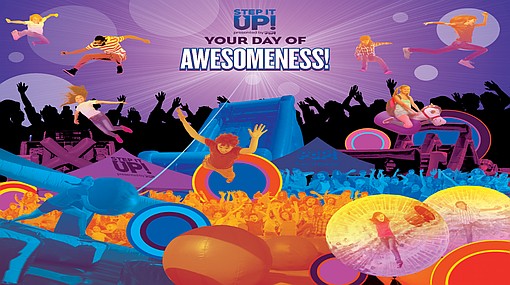 Our biggest school fundraiser will kick off on Tuesday November 12, 2019. Our school is thrilled to partner with STEP IT UP! presented by Power of Purpose (Pop!).
Our Goal
The PTA supports and organizes a wide variety of programs, and this fundraiser particulary helps with our efforts toward student reading. The PTA enhances the school curriculum by purchasing access to software like Accelerated Reader and A-Z Learning, giving awards for students who participate in the Reading Across Broward program, and organizing Literacy Week.
With your help, we can continue helping the HHE students, AND DO MORE!

How it Works
STEP IT UP! is all about equality, positive vibes, and helping students believe in themselves and their ability to change the world, and we reward them for their efforts with an amazing Day of Awesomeness!
On Tuesday, November 12th, students will have a kick-off assembly to learn more about the fundraiser. Students will bring home a copy of this flyer: HHE Flyer
On Tuesday evening, parents work with their kids to set up their account, and send emails to friends and family. Students who send out at least 10 emails can return their "Golden Ticket" to school on Wednesday and earn their first rewards. Students who send out at least 20 emails will also be eligible to earn an additional prize. Make sure to bring back the Golden Ticket on Wednesday (Thursday if you forget--but try for Wednesday!)
You may want to check with your friends and family that they received the email, as it can be removed by spam filters. A personal request after the initial email will help students raise more donations.
Students will have opportunity to raise donations from relatives, friends, coworkers, and businesses from November 13, 2019 to December 3, 2019. All online donations can be done through this web site:
https://www.stepitupkids.com/hollywoodhills33021/
Checks and cash donations are also accepted. Students should complete this Pledge Sheet, and return the Pledge Sheet to their teacher no later than Tuesday, December 3rd.
On December 9, 2019, the students will have a Day of AWESOMENESS, which is the fitness activity inspired by inspired by the hit TV shows WIPEOUT and American Ninja Warrior, ran by STEP IT UP! Students will receive the rewards that they earned while enjoying bounce houses, interactive games, and an obstacle course.
The main point
This fundraiser is not just about earning prizes. The PTA uses the money to make the school better, to help teachers, and to increase how much students enjoy school and want to learn.